IBDP PROGRAMME (GRADES XI - XII)
The International Baccalaureate Diploma Programme (IBDP) - (Grades XI & XII)
At Hill Spring International School the IBDP programme aims to equip its students with the necessary skills and attitudes by offering a comprehensive and challenging academic programme and allowing students to gain real life experience beyond the homeroom.
Advantages of IBDP:
Universities worldwide recognize the outstanding qualities of IB Diploma Programme students.
The Programme encourages students to discuss and debate on real world issues from an international perspective to build their personality and confidence.
It enhances the students' leadership qualities and develops their character by encouraging participation in local and global community programmes through CAS (Creativity, Activity and Service) activities.
Strengthens the spirit of internationalism and teaches students to communicate in other languages and appreciate them.
Unique learning opportunities of the IBDP:
At the heart of the programme are three core requirements that are integral to the curriculum that make the IB Diploma Programme unique alongside the six subjects which are offered to the students:
Theory of Knowledge (TOK) - an internally and externally assessed interdisciplinary component that explores the different concepts of knowledge found in the subject areas. IB Diploma Programme students study six subjects simultaneously, therefore TOK teachers can, for example, ask their students to compare a historian's approach to problem solving with that of a scientist or an artist.
Extended essay - an externally assessed, independent research assignment of 4,000 words in one of the six subject areas. This is one of the ways in which IB Diploma Programme students can specialize in a certain subject area and prepare for university studies.
Creativity,Activity and Service(CAS) - a minimum of 150 hours of participation over the two years in creative, physical and service activities in the local community. The CAS requirement allows students to gain real-life experience beyond the homeroom.
Internationally recognized standards:
Assessment is varied and takes place over two years, with final examinations in each subject. Students' work is assessed by an international board of examiners, who are themselves rigorously trained and monitored by the International Baccalaureate (IB).
Subjects are scored on a 1-7 scale with a further three points available for Theory of Knowledge and the Extended Essay. Students who display good levels of performance across all six subjects and achieve a minimum of 24 points (out of a possible 45) are awarded the diploma. All others receive a certificate for each of the subjects completed.
For more details visit: www.ibo.org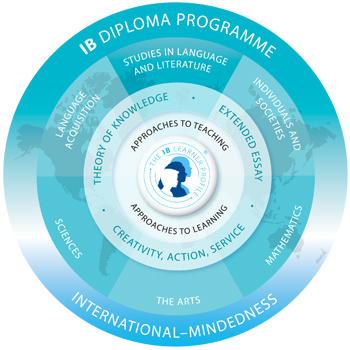 SUBJECTS OFFERED AT HSIS
Group 1: Studies in language and literature
English A: Literature HL
English A: Literature SL
English A: Language and Literature HL
English A: Language and Literature SL
Group 2: Language Acquisition
French ab initio SL
French B SL
Hind HL
Hindi SL
Spanish ab initio SL
Group 3: Individuals and societies
Business Management HL
Business Management SL
Economics HL
Economics SL
Global Politics HL
Global Politics SL
History HL
History SL
Information Technology in a Global Society HL
Information Technology in a Global Society SL
Psychology HL
Psychology SL
Group 4: Sciences
Biology HL
Biology SL
Chemistry HL
Chemistry SL
Computer Science HL
Computer Science SL
Environmental systems and societies SL
Physics HL
Physics SL
Group 5: Mathematics
Mathematics HL
Mathematics SL
Group 6: The arts
Theatre HL
Theatre SL
Visual Arts HL
Visual Arts SL